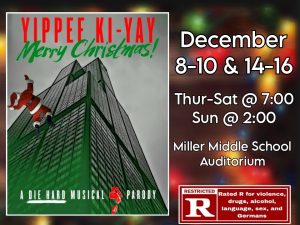 Yippee Ki Yay Merry Christmas is a musical parody of the best Christmas movie ever made.  We can't legally tell you what movie that is, but "Die Hard" Christmas fans will love it!
Performances will be at Miller Middle School auditorium.
This show is RATED R for language and mature content.
Directed by:  Kevin Jensen and Carter Richerodt
Choreographer: Scott Lindborg
Cast
Gabriel Duden as Bruce McClane
Holly Hurst as Holly Generic
Christian Stickrod as Hans Olo
Kya Naughton as Klaus/Tony/Holly's Assistant
Josh Krough as Willis
Danial Abens as Nintendo Nakatomi
Tyronda McMullen as Fabrique/Carl Winslow
Tyler Lillibridge as Deputy Chief Dwayne The Rock Johnson/Principle Vernon Robinson
Lydia Lillibridge as Theo
Samuel Wilder as Arnold Schwartzen-Schnitzel
Nathan Bloomquist as Special Agent Johnson
John Gill as Terrorist Chorus #1
Regina Gill as Terrorist Chorus #2
Stacy Heil as Terrorist Chorus #3
Lana Bradstream as Terrorist Chorus #4
Ryan Grabau as Terrorist Chorus #5
Band
Pianist – Leigh Carson
Saxophonist – Daniel Abens
Drums – John Peterson