Date/Time
Date(s) - August 7, 2022
2:00 pm - 4:00 pm
Categories No Categories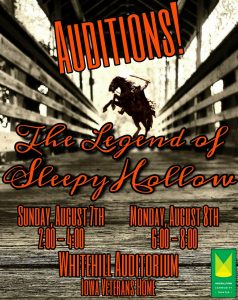 America's first great ghost story, Washington Irving's The Legend of Sleepy Hollow follows the quirky and superstitious antics of schoolmaster, Ichabod Crane, who is haunted by the dreaded Headless Horseman.  This imaginative adaptation by Peter Bloedel and Hans Bloedel stays true to the world that Irving creates in this American gothic tale but, adds a lyrical quality that further enhances the humor, the magic and the terror.
Help MCT bring this American classic to life! The Legend of Sleepy Hollow requires a large cast with roles for men and women of all ages (17+) with the 3 main characters of Ichabod Crane, Brom Bones and Katrina Van Tassel. August 7th and 8th at the Whitehill Auditorium on the Iowa Veterans Home campus. Scripts are available at Lowe's Flowers.
Map to get to Whitehill Auditorium at the Iowa Veterans Home campus.